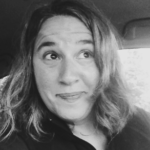 Nancy Slavin's poetry and prose can be found in The Manifest Station, Rain Magazine, Barrelhouse, and Avocet, hipfish, Literary Mama, Hip Mama, and Oregon Humanities Magazine. Nancy is a professional editor and agented writer. She's been a longtime community college English and writing instructor as well as a violence-prevention and anti-oppression educator.
Nancy holds an M.A. in English from Portland State University and she's a graduate of Northwestern University's B.A. honors poetry program. She's also worked as a writer-in-residence and teacher trainer for Community of Writers on the coast, a literary tutor, and an educator for a non-profit organization seeking to stop violence against women.
She lived on the north Oregon coast with her spouse and daughter for the past two decades, and now they've all moved to the city.